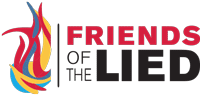 Become a Friend of the Lied
Ticket sales provide less than 40% of the funds necessary to bring world-class artists to Lawrence. Your generous financial contribution is critical to the Lied Center and helps make our community a wonderful place to live.
Friends of the Lied donations start at $50 and are 100% tax-deductible.
FELLOWS ($2,500)
Add $2,500 donation to cart
20% discount on full season and performance packages
20% Single performance ticket discount
Meet and greet with a Lied Center Series artist before or after a performance (as available)
Special program recognition at a Friends event
Plus all benefits in levels below
BENEFACTOR ($1,000+)
Add $1,000 donation to cart
20% discount on full season and performance packages
20% Single performance ticket discount
Reserved parking for Lied Center Series performances
One free use of the Lied Center's meeting and reception spaces (some restrictions apply)
Plus all benefits in levels below
PATRON ($500+)
Add $500 donation to cart
15% discount on full season and performance packages
15% single performance ticket discount
Free ticket exchange, or Lied Center Series credit, anytime prior to Lied Center Series performances
Invitation to Intermezzo-complimentary refreshments during intermission at Lied Center Series events
Plus all benefits in levels below
SPONSOR ($250+)
Add $250 donation to cart
15% discount on full season and performance packages
15% single performance ticket discount
Free ticket exchange, or Lied Center Series credit, one week + before to Lied Center Series performances
Invitation to education activities and receptions (as available)
Plus all benefits in levels below
CONTRIBUTOR ($100+)
Add $100 donation to cart
10% discount on full season and performance packages
10% single performance ticket discount
Free ticket exchange, or Lied Center Series credit,  two + weeks before Lied Center Series performance
Invitations to exclusive Friends-only events
Plus all benefits in the level below
ADVOCATE ($50+)
Add $50 donation to cart
10% discount on full season and performance packages
Access to Friends window at the Ticket Office
Advance ticket purchase
Pre-sale ticket offer for performances added after the season announcement (if artist allows)
Opportunity to purchase tickets to the Friends of the Lied exclusive Just Friends Jazz Series
Same season-to-season seat location for traditional season packages, during Friends pre-sale (not applicable to "Choose Your Own" series)
Recognition in the Lied Center Series performance programs
Access to Lied Center e-newsletters